Creative & Courageous Russian: Ethan Nikelsky
We are so glad to have the chance to interview Ethan Nikelsky and bring you Ethan's story.
Ethan Nikelsky was before Itan Nikelskii in his Russian documents. Asked about his name, he explained us:
---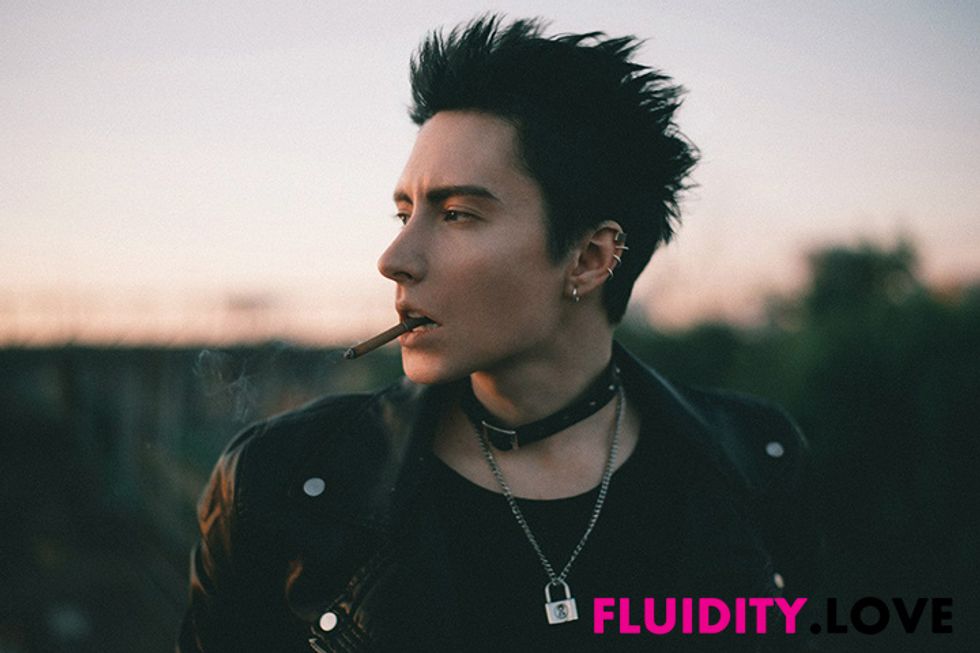 "I wanted something simple, but not very common. "Ethan" works perfectly; moreover, it is a nonexistent name in Russia, which symbolized my sense of resistance in some way. I knew I would move to another country eventually, so my new name was also a symbol of moving forward."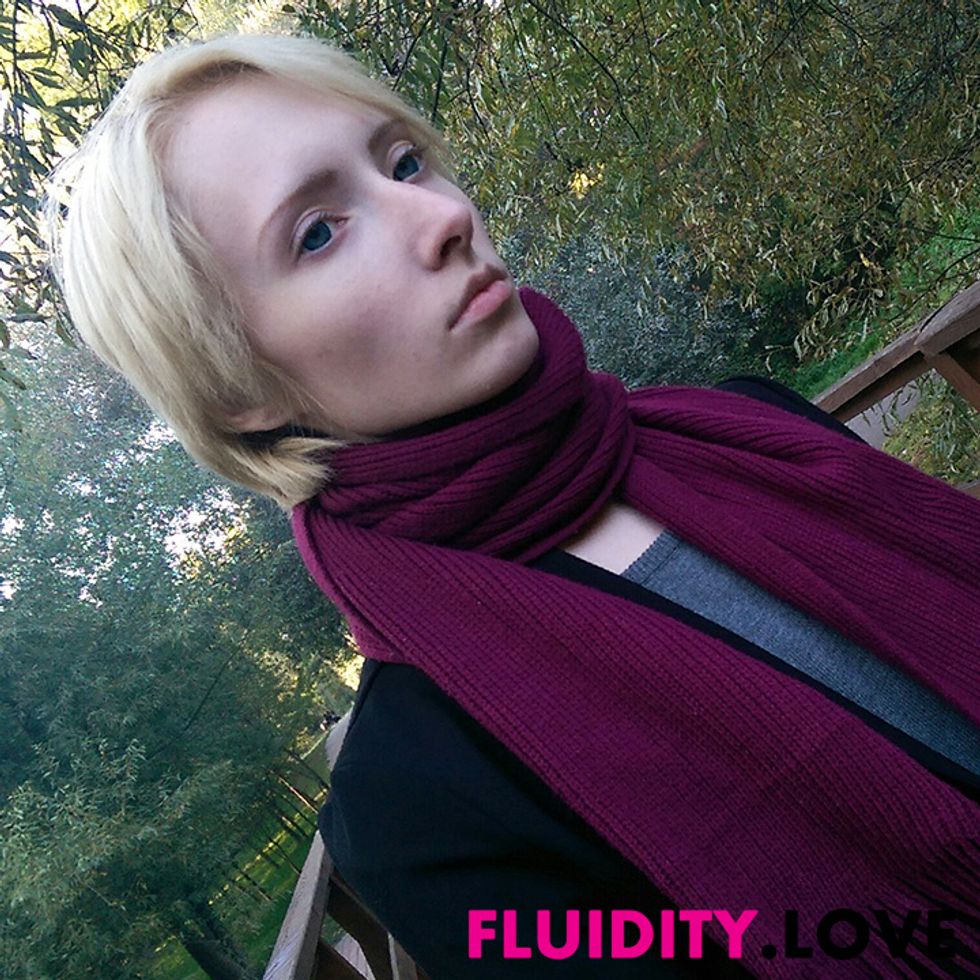 15-16 years old Ethan, pre-transitioning
Weirdo Excellent Student
I was a weirdo. I still am, but it's much harder to be a weirdo as a kid, because other children rarely appreciate nonconformity and strangeness. I was an excellent student and a mess at the same time. I wish I had enough knowledge back then to understand what was going on with me. No sexual education whatsoever (hello Russia!), no real psychologists, nothing. I didn't even know the term "gender".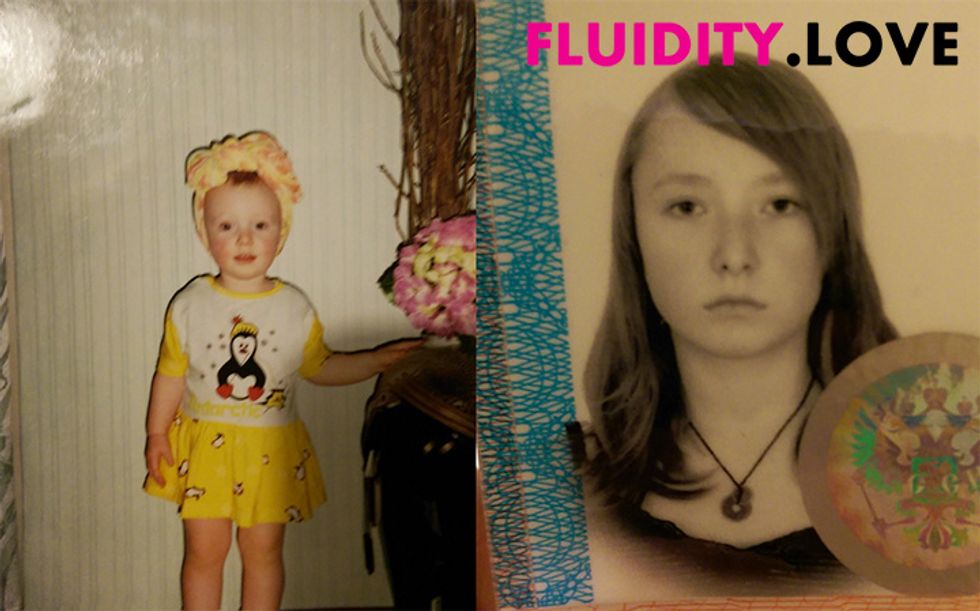 Ethan's childhood photos
School itself was bearable, but I didn't have any friends. I don't really feel like school was a big part of my life, even though I spent 11 years there. I even skipped almost the whole final year because of the depression and gender dysphoria.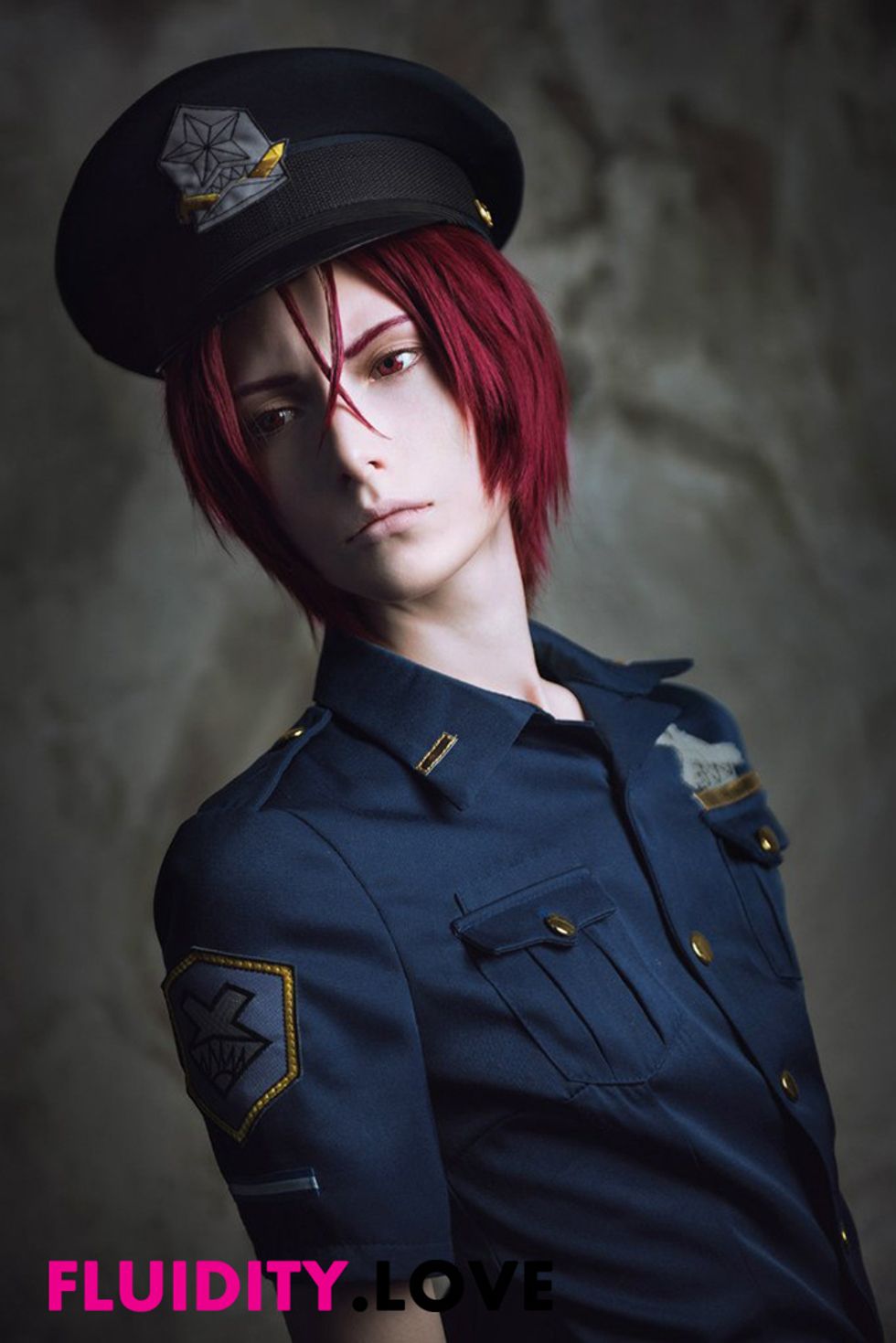 Cosplaying
I started to work when I was 15. Me and my ex-partner, we opened an online-store, and it turned out to be a success (eventually I paid for my hormone therapy and the surgery without asking my parents for financial help).
At the same time, I discovered cosplay, which became my escape: I could easily "be a man" under the guise of an artistic/theatrical hobby. I know that many people perceive cosplay as something... childish? However, it wasn't a game at all. Cosplay helped me to realize who I am, make friends, and gain an insane amount of on-set experience.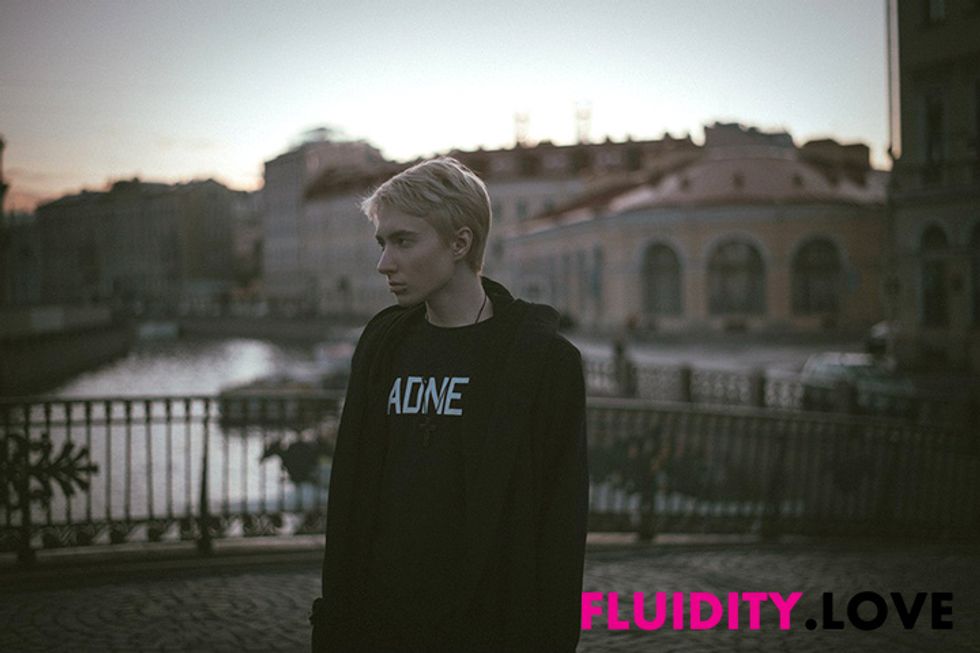 Coming Out in Russia
If we are talking about coming out to myself, it was tough. I had some sort of inner transphobia and couldn't even think of being "one of them". It's interesting to see my past from the point of my current experience, because I used male pronouns, wanted to change my documents, and dreamed about a male voice and the top surgery, but I avoided the word "transgender", because I was simply frightened.
The truth was revealed during an argument with a friend, who called me a "trans man" for the first time. It was shocking but true, I couldn't deny it anymore. The rest of the day I spent crying. I was 17, in my final school year. It was the beginning of the most important life turn.
Transsexuality in Russia
There's not that much info about transsexuality in the Russian language, and I didn't speak English back then, so I spent a couple of months gathering information and searching for medical help. However, I was rejected by a psychiatrist, because I was only 17. It is absolutely horrible that transgender youth in Russia has almost nowhere to go for medical assistance and professional psychological help.
Nevertheless, I realized that I could not live like that anymore, and I bought over-the-counter testosterone and took my first injection on March 25, 2015. I had my top surgery later that year. It was three years ago, and I can't believe how drastically my life has changed.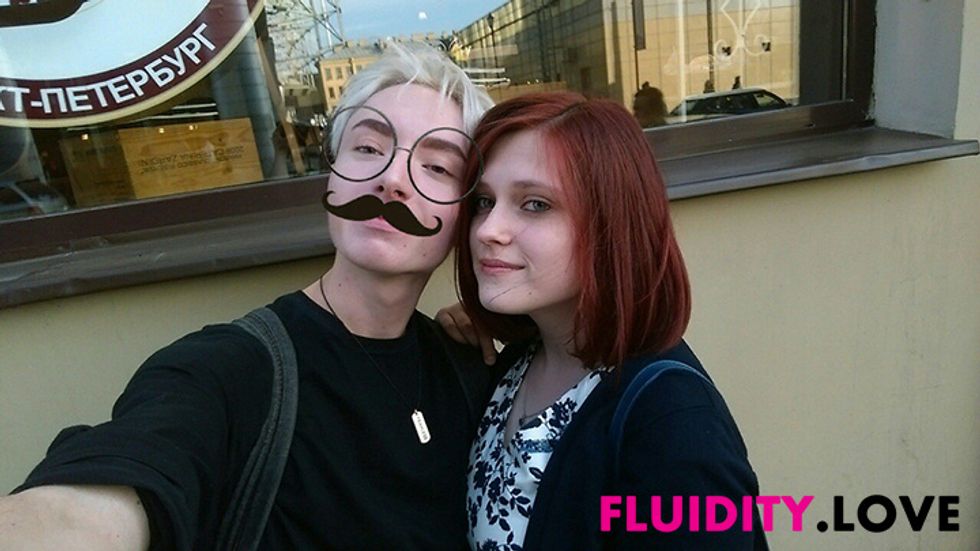 Ethan's bestfriend, Tina
Supportive Family & Friends: I Was Insanely Lucky!
As for the family and friends, they supported me. Now, I think it is very important to highlight that I was just insanely lucky. It is not how it usually happens in Russia, and I would like to express my condolences to all LGBT+ people who were abandoned by their friends or kicked out by their families.
I was very cautious with my coming out and had a serious talk with just a few people. My best friend was terrified and started to cry, because she thought that I would die shortly from surgeries and hormones (again, Russians are pretty clueless and don't have enough information about it). My other friend was so shocked and scared that she suddenly changed the topic in the middle of our conversation, and my heart sank. However, I explained the process to both of them later, and they supported me.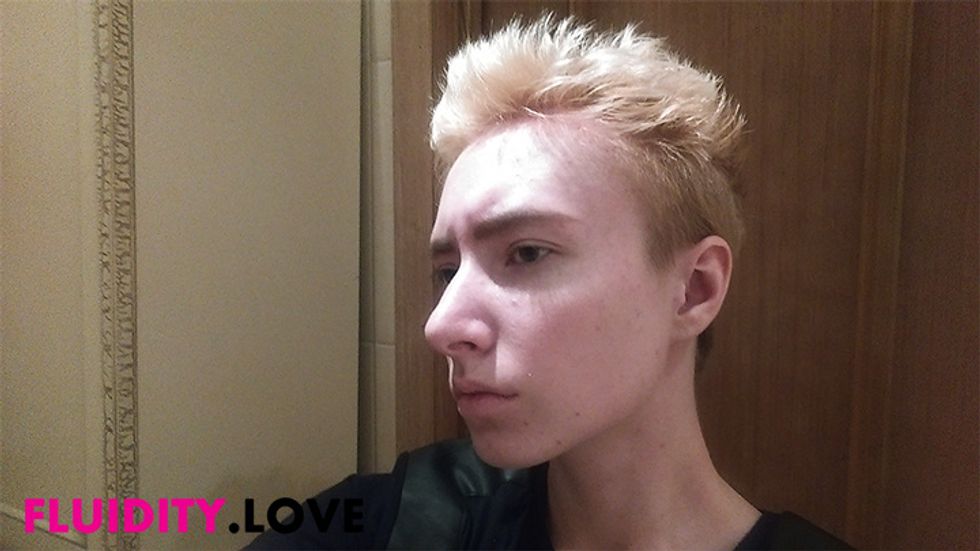 During 3 months of Hormone Replacement Therapy
My father... I feared coming out to him the most. I knew that he could have a heart attack because of the fear for my life and health, but I couldn't tolerate being called by my dead name any longer. I was still 17 but already on testosterone.
I was ready to leave my home forever after the conversation, so I packed a backpack and prepared my documents and money. I sincerely thought it would be the last time I saw my house. The conversation was dark and bone-chilling. My dad didn't say anything and he needed a couple of weeks to start talking to me again, and a couple of months to accept everything. Eventually, it was alright.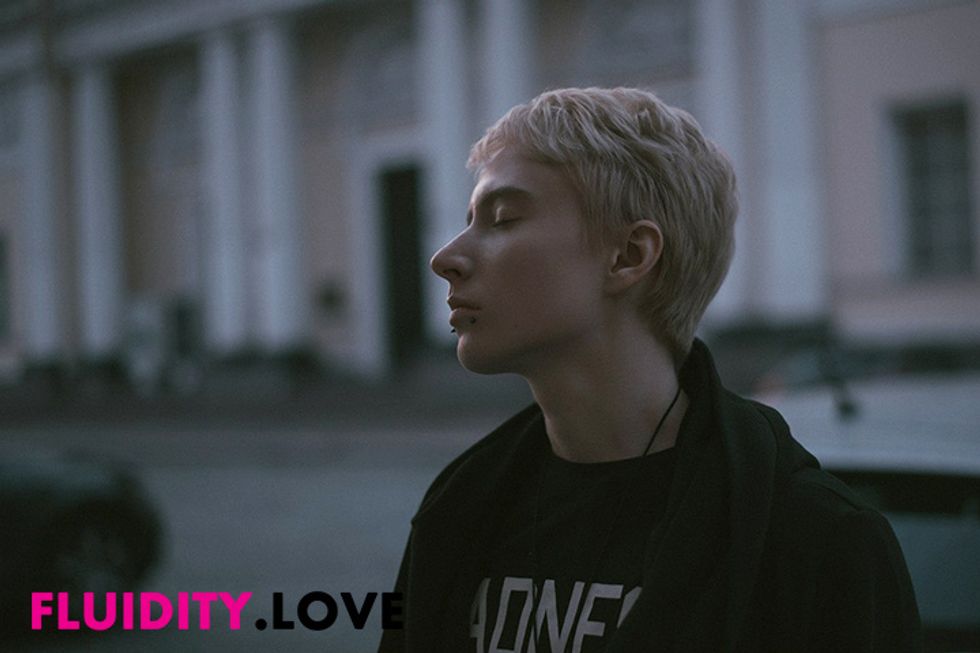 Pushback?
My pushback... Yes, there were people who tried to make my life harder in terms of acceptance, but my biggest enemy was myself. Dysphoria had led to envy, and I compared myself to others constantly. Please, never ever do it. Envy is never an ally.
Best Things About Transitioning
Oh, man. Everything? Every single thing in my life is so mych better now. I'm alive, to say the least. I feel like I've been reborn, like I didn't exist before and just started to live. It can be difficult sometimes, because usually people process information about life little by little, year by year, but I have to do it all over again, and quickly. However, it's a small price to pay for freedom and happiness.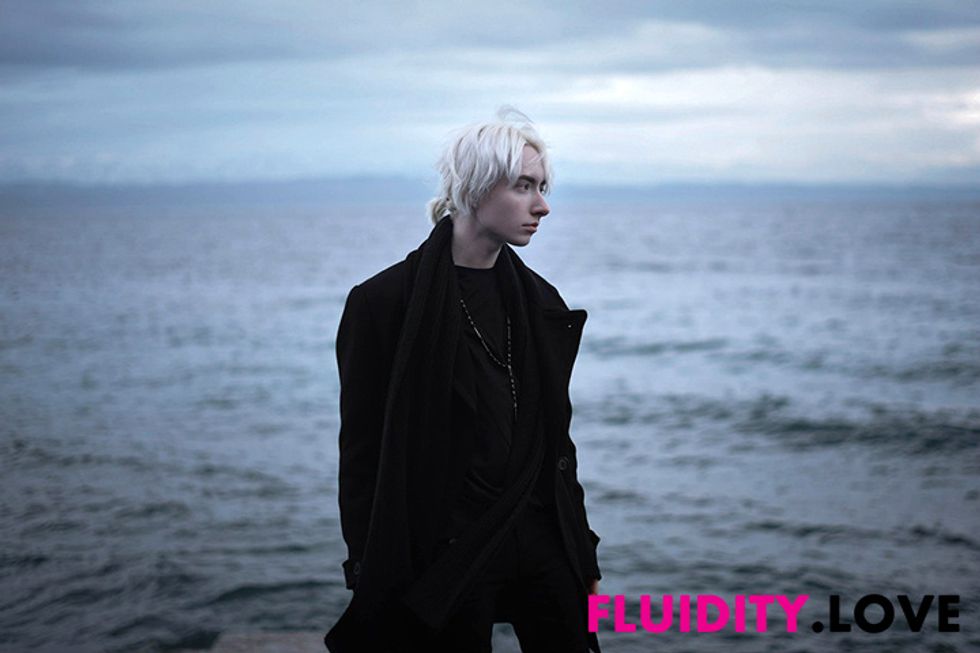 Self Help Books Helped Me A Lot
It may sound cheesy, but books on self-improvement helped me A LOT. It's great to have supportive people around, but I struggled to communicate, so motivational books became my close friends, and their authors became my mentors. "The Key" by Joe Vitale literally saved my life when I was about to end it all. The hardest part is to start reading, but once you've started, you get a portable quadrilateral therapist at your disposal.
Pansexuality
In fact, I identify myself as pansexual, but I do prefer men in most cases, so usually I just say that I'm gay. So, as gay, I mostly came out to myself. My dad doesn't really care about my sexual orientation (nothing can scare him more than my coming out as transgender); my friends are educated people, so there wasn't any reason to officially come out to them.
Again, the challenge was to accept it myself. I was absolutely devastated, because I thought that there is no way for me to find a boyfriend and that I would always be neglected and unlovable. Turned out I was really, really wrong about that, haha. Many transgender mlm are terrified of their future in terms of love life, but I just want to say that there are so many amazing and open-minded people... Everybody deserves a chance to be loved, and being trans and/or gay isn't a hindrance here. There is always the right person for everyone, just keep looking.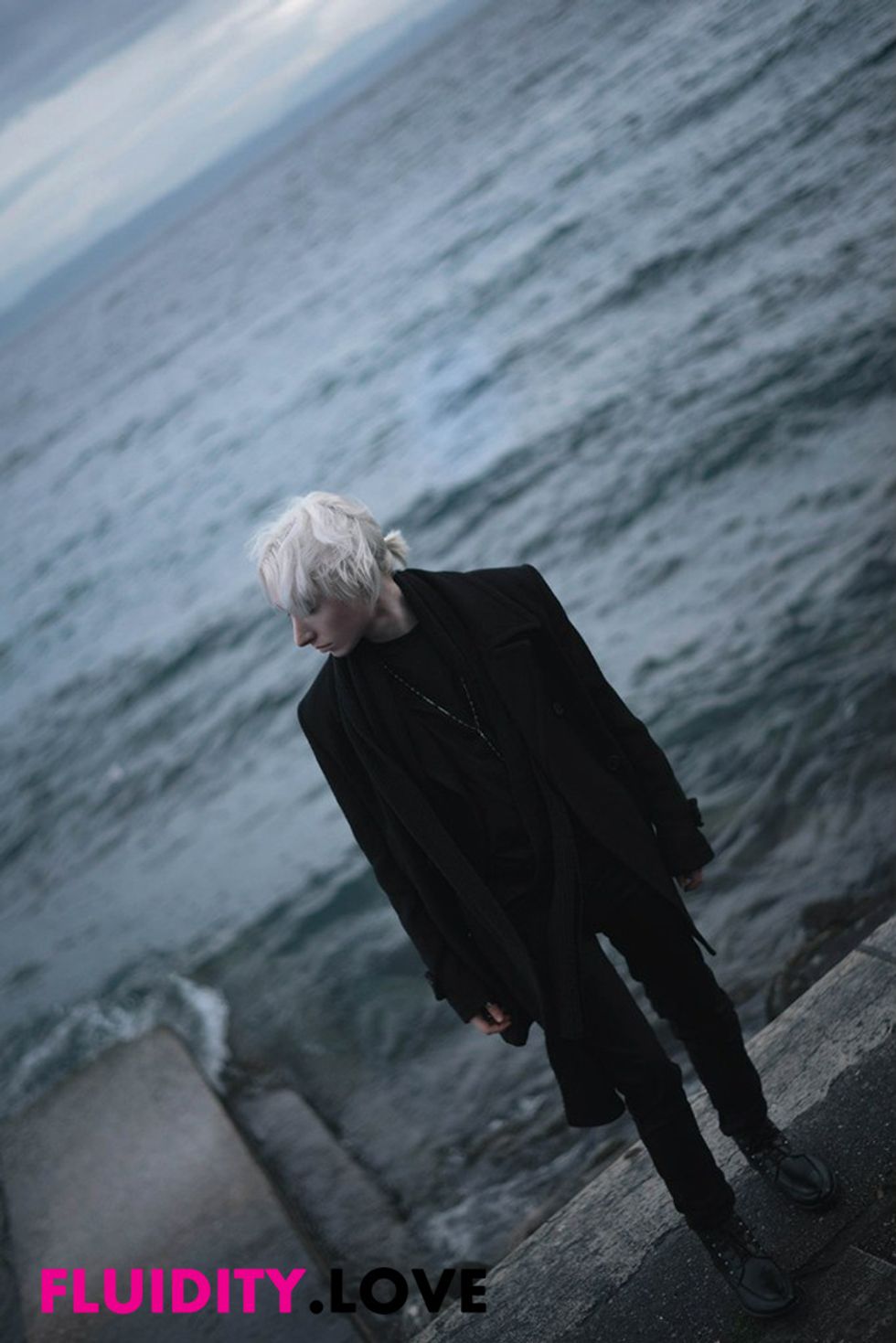 Ethan's Hobbies & Interests
I'm madly curious, and there's no way I can list all the things I'm interested in. But if I were to shrink it down and name just, let's say, three, it would be filmmaking (writing&directing), learning in general, and finding beauty. In fact, my favorite hobby is to think, which may sound weird.
I'm always in my head, generating ideas like a crazy machine and analyzing what I learn every day. I'm very calm and peaceful, but what's going on in my head is insane. So, yeah, my main hobbies are learning, asking questions, and staring at people, objects and landscapes. I feel like I have the best hobby in the world: it never gets boring and I don't need anything except my head.
Studies, Current Life, & Filmmaking Passion
I quit university in Switzerland, where I studied the French language and culture; then I was accepted to several colleges in NYC and was about to study psychology there, but I changed my mind and decided to finally do what my heart dictates - filmmaking. I'm about to shoot my first short movie and I'm very excited! I don't have any safeguards, I don't know what will happen tomorrow, but I do what I love, and it's everything that matters.
A few years ago, I discovered this famous Jack Kerouac's quote:

"[...]the only people for me are the mad ones, the ones who are mad to live, mad to talk, mad to be saved, desirous of everything at the same time, the ones who never yawn or say a commonplace thing, but burn, burn, burn like fabulous yellow roman candles exploding like spiders across the stars and in the middle you see the blue centerlight pop and everybody goes "Awww!"
I thought to myself, "This is beautiful. I wonder if these people really exist". I didn't notice me becoming one of them.
Professionally I look up to David Lynch and Quentin Tarantino. Generally... I don't think I have anyone in particular. I know what I want to be, and it's my main role model. I've got so much work to do.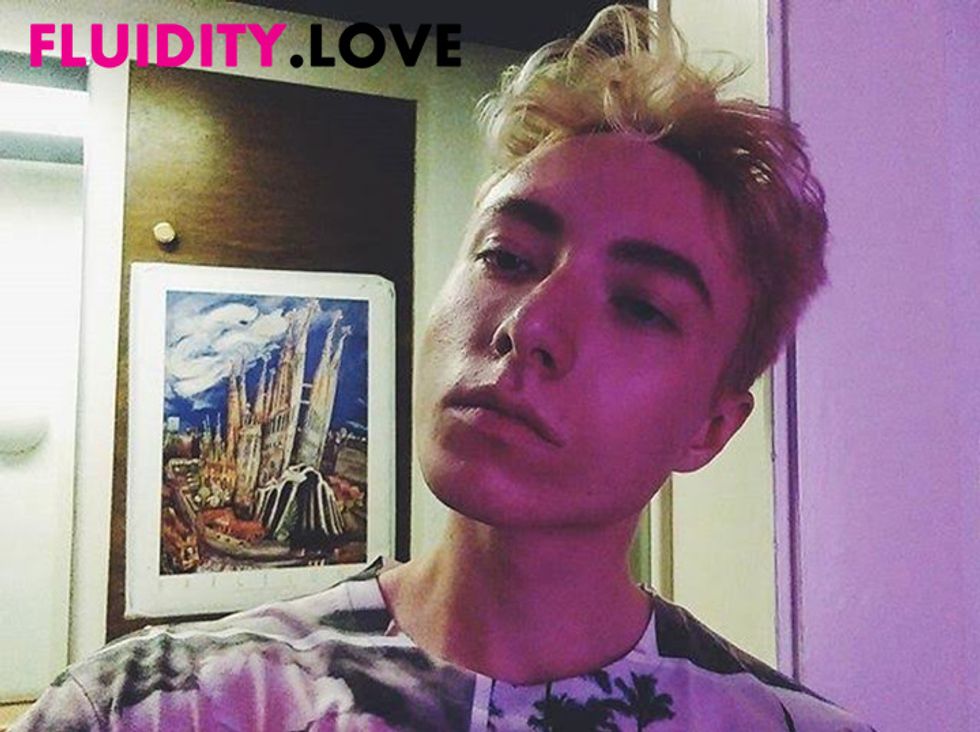 My Hopes For People
We live in a very interesting era. People change, but I wish they did it faster. It's 2018, and we still have absolutely ridiculous things and concepts about the world. However, it's slowly getting better.
My main hopes are, first of all, safety and freedom for all LGBTQ+ people, serious breakthroughs in science (especially in medicine and cosmology) without political or economical interruption, and established birth regulations.
About the last one: I believe it is not acceptable that people are allowed to have as many children as they want without special education and background check. Birth rates are such a mess in our modern world, but again, it's getting better. I'm so happy to hear young people's saying that they want to adopt a child one day. This is beautiful.
Ethan's Personal Quotes:
"I don't know in what world you live, guys, but it's time to return to the beautiful reality where all people are different. Quit your black-and-white world, life doesn't work this way. It's time to accept the diversity of this universe."
"Discuss what you want, discuss what type of care you expect, because people still can't read your mind (ridiculous!), so you have to move your mouth, but it's better than nothing."
"You have no right to barrier your children from the truth. And you have no right to barrier your children from love."